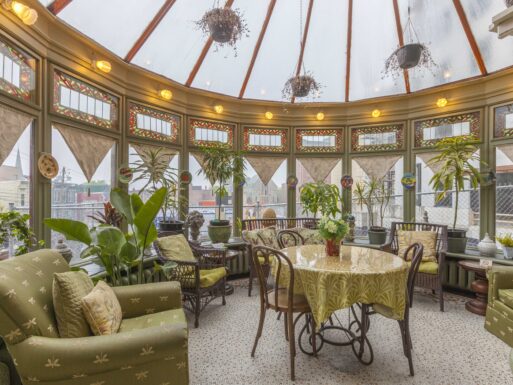 Whether it's for a night, a week, or an extended visit, let your stay in Canada's first city be as unique as Saint John itself!
Located within easy walking distance to top restaurants, entertainment and shopping venues, tourist attractions, and waterfront activities, Chipman Hill Suites provides a wonderful choice for accommodations in Saint John's bustling and dynamic city centre.
---
Luxury Suites in Beautiful Victorian Mansions
Chipman Hill Suites takes great pride in our city's history and has carefully restored each of our nine heritage properties to highlight the beautiful woodwork, stained glass, high ceilings, and stunning historical architecture. 
No two suites are exactly alike, as they are individually decorated and uniquely positioned within each building. Designed for your comfort and convenience, each suite includes a private en-suite bathroom, full kitchen or kitchenette, complimentary in-house laundry facilities, and many more comforts of home.
---
Check-In Process
Another one of the many unique aspects of a stay at Chipman Hill suites is our self-check-in process. We have worked with a self-check-in procedure since our inception, refining it over the years to ensure that all new arrivals experience a smooth and seamless check-in. Our check-in instructions are sent upon receipt of payment, 5 days ahead of arrival, so that each guest is equipped with all the information needed to access the property and suite.
Unlike a typical hotel, we do not have a 24 hour Front Desk.  We do, however, have an office (located at 76 Union Street), and our staff is happy to assist with any and all inquiries during office hours.  When the office closes, we have an after-hours on-call service through which our own staff continue to serve guests as needs arise.
---
Unique Extras
During your stay, we encourage you to take advantage of the building's common areas, which vary in size and scope from property to property.  We also have "little libraries" at each building, so if you're looking to relax with a good book, please feel free to pick something from our unique and varied collections!
Guests of Chipman Hill Suites are very fortunate to benefit from a special arrangement with the Union Club, a storied, private club that welcomes anyone staying at our properties for weekday lunch (12noon-2pm), without a membership!  Please call ahead to inquire if a reservation is necessary, (506) 634-6184.